I thought it would be awesome to have a basket full of birthday stuff in it.
So me and my friend made a "Birthday Party Kit" basket. It had everything you needed for your birthday. I made 20 invitations, 20 Thank you cards all with envelops. I made 20 pre-made ready to go goodie bags.
We had a birthday frame. My friend made this really cute birthday cup cake tag thing, really cute, she also made a birthday hair band.
I also made the "Happy Birthday" banner. I used card board from the CM page protectors cut it to size 5 1/2 by 5 1/2, painted the squares with blue acrylic paint. Cut out the scalloped squares using cricut from the Accent Essentials cartridge, size 5 inch. The red part is the shadow so it's the same size as the white paper just shadow. The images on the white paper are all hand stamped. I used all kinds of stamps on them but mostly from CTMH. Added some fun bright colors of ribbon and done. It turned out really really awesome and I personally didn't want to sell it...
The cards, I used the cup cake from the Doodlecharm cartridge.
(Sorry ladies if I'm getting the wrong names for the cartridges, don't have them in front of me at the moment.)
Here are some pictures of this basket.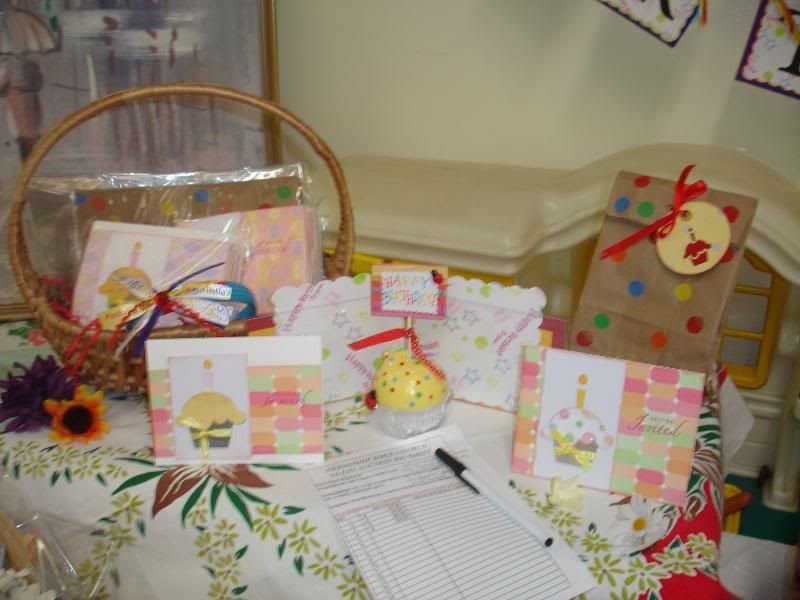 Banner.
Invitation card.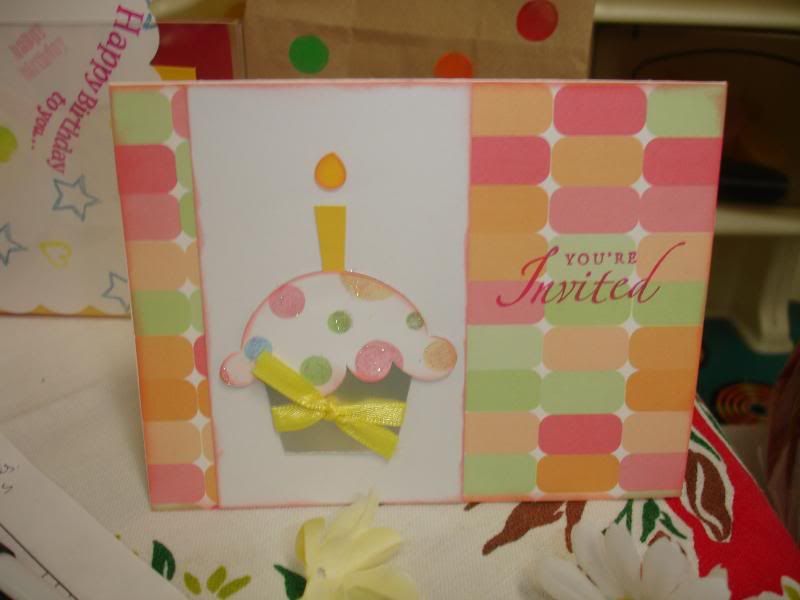 Thank you card.
Goodie bag.
Here are couple of up close pictures of the banner. Again... the pics didn't turn out all that great.
I totally forgot to take pictures of all of my stuff at home before we set everything up. And the day I took these pictures I had only 2 hours of sleep. I staid up to finish things up. But anyways....
I made the holes for the ribbon to go through using the Eyelet Setter Tool Kit from Making Memories. I used the biggest size to punch through the card board. Then I just tied the knot with the ribbon on the front side.
It was so easy to make the banner and so much fun!!!! I'll have to make one for my self now so I can use it for my girl's birthday parties...
Thanks for looking!
Nadya