Our Craft Silent Auction and Bake Sale for our Church Building Fundraiser was last week Wed. - Fr. We were there before and after school with Bake Sale.
I was very very impressed with our Bake sale. First day we sold $57 worth of baked goods. At the end of our second day I counted it and we were at $377. That includes the $57 from the first day and about $100 from other little things non baked goods that is $220 that we made only from baked goods the second day. WOW! Our third day we were over $500. It was just AMAZING!
Our auction was awesome. We had ladies that made some really cool things. One lady did 8 hand made very nice, bright colored aprons, 3 full size and 5 half. Another friend altered a tin and made 30 different cards to go with it. Another one made bunch of jewelry, hair bows and put bunch of baskets together. We had teacher gift baskets, family movie night basket with 2 DVD's, popcorn, candy and chips and a $10 gift card to Block Buster. All together we had 37 different items.
My friend Ivy made an awesome tutu hair bow organizer. We had ladies going crazy over that. It was beautiful. Ivy also donated us some wooden letters that said "family" I altered them and people loved those as well.
We had only about 2 weeks to put it all together and it turned out really really awesome. But it was possible only with God's help. He knows all the late nights that I had and the frustrations that go along with getting something like that organized. He got me through those days, days with only 2 hours of sleep and people calling and canceling on baked goods and so on and on. But He provided everything that was needed. I learned so much during those two weeks. Even though I was so tired by the end it was all so worth it and it was good for my soul!!!!!
So all together we made about $1,400 (around) so far, still some things pending... We did end up having couple of things left. One of the parents from school donated us bunch of Mary Kay stuff and we have couple of those things still left. But other then that everything is gone. We are very very very HAPPY with the number.... Did not expect that at all!!! But God did it...
I wish I could explain you all how exciting it was to see parents of the school get excited about the auction and bake sale. Parents started bringing us baked goods in the mornings and then after school. People shared how blessed they feel by this school and how happy they are with it and that it's been a blessing to have their child in that school. Our school is a Private Christian School. It was just amazing!!!! God has taught me so much in these past couple of weeks. He has showed me so much and touched my heart in so many ways. I can't even explain it all.
If you have any questions let me know I'll try to answer as best as I can.
I did take pictures but they didn't come out all that great. But that's what happens when you run around and try to take pictures on the 2 hours of sleep.
Here are some of the pictures.
This is our corner with the tables all set up the morning of our first day.
close up of the tables....
Here is the altered tin with 30 cards that was made by one of my friends.
Tutu hair bow organizer that Ivy did and donated to our auction.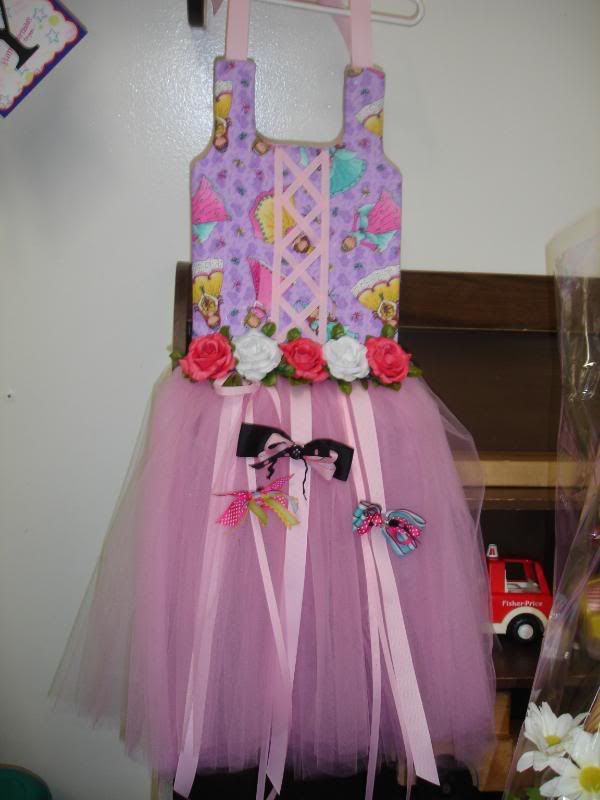 We had two Aloha quilts donated to us. This is my oldest dd standing next to the baby Aloha quilt.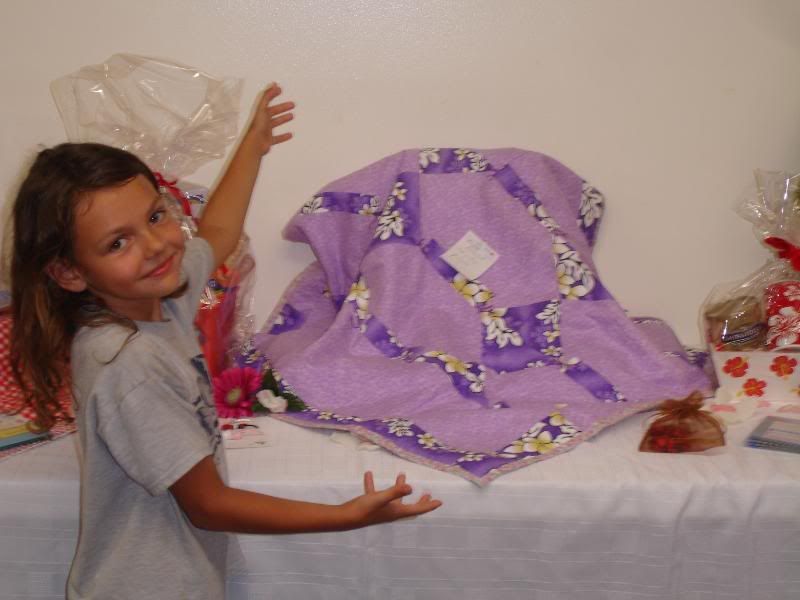 Family Movie night basket...
We had some two diaper cakes, this is one of them.
This one was a baby bath basket. The towels were made by one of my friend's sister. Her sister also did the Aloha quilts.
Teachers Basket. Full of fun stuff for a teacher. Altered clip board, teacher jewelery, wooden apple pencil holder, pencils, candle and more.
Another hair bow organizer that was also hand made.
The other big quilt.
Family Fun basket. Full of art projects for kids.
I'll start a new post with the items that I did.
Hopefully this will give some of you some kind of ideas if you'll be doing an auction or any other kind of craft type sale things.
Thanks for looking!!!
Nadya