I had posted on SS asking for some advice as far as what I can do to get Sara from getting in to my
scrapbooking
things. She would get in too stamps, inks, brads and anything and everything that she can get her little fingers in too. She was smart. I put things away, she would climb. I turned things around so the drawers were facing to the wall, she figured out that if you push the top drawer in you can get your hand in the drawer below it..
LOL
:) Yup one smart cookie!!!
Oh but was I mad when I had to be on the floor and trying to pick up all those little tinny brads and
eyelets
off the floor. When I find my cards with ink on them or layouts with marks and tape all over the photos.
So I went for help on
ScrapShare
. Lots of ladies gave some wonderful suggestions. Couple of them suggested to get a gate.
Well, my corner doesn't have any doors or walls close enough to put up gates. It's an open area that I share with my
dh
for his office stuff and the girls for their play room. It's kind of like and "L" shape and my end is in the corner at the end of the "L" or how ever you look at it.
Here is a pick of it.... with the girls playing...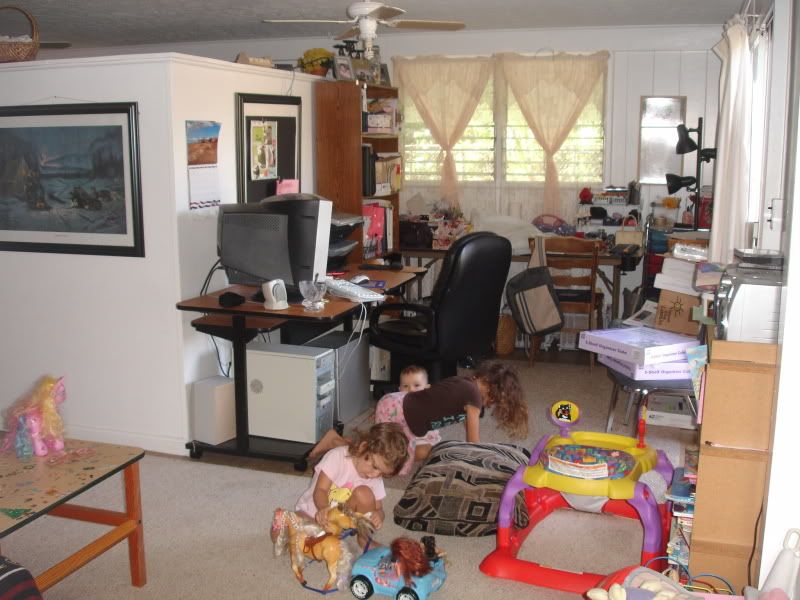 Some suggested to get a big gate something like
THIS
. But the cost of those turned me away...
Two weeks ago couple of friends and I did a garage sale together and one of them had her baby gate for sale for $12. So I got it from her. It worked out great and the price was perfect. Yeah, it's not as big as the one mentioned above... But it works and that is the important part...
Here it is...
now my stuff is SAFE from little fingers... And I'm so happy! I can leave my layouts on the table, I don't have to worry about her touching things...
Woohooo
!!!
Nadya :)