Leda's 4
th
Birthday Party was back in September.
But I thought I'd share the
Goodie
Boxes that I did for her and her friends.
We had about 15 kids... WOW!
But I did 19 boxes just
encase
everyone did come.
I had found these
cheapboard
boxes for $1.11 each at
WalMart
craft area... The $1.11 was just for my budget. I had a lot of fun doing them.
I put candy and other gift favors in the boxes and then put them in a plastic gift type bag thing and put a tag and ribbon on it.
I used CM and non CM papers. Lots of pink colors
Pink ribbons and some jewels...
I used
CTMH
Playful Flourishes stamp set.
Mod
Pudge
Super Surface sealer to finish them off.
Sizzlits
for names and other shapes.
BG
filling set. To file the scalloped edges of the box lid.
CM tag maker and other makers.
Here is what the box looked like to begin with.
This is what they looked like after I was done with them.
Here are some up close:
I did do some for boys. We had 3 boys that were going to be there.
This one is a clear one with out anything on top.
Another boy one. This one was for a 2 year old boy.
Couple of kids couldn't come so I didn't do their boxes.
Here is what they looked like all ready.
Leda with her
goodie
bag after she gave out other bags to her friends.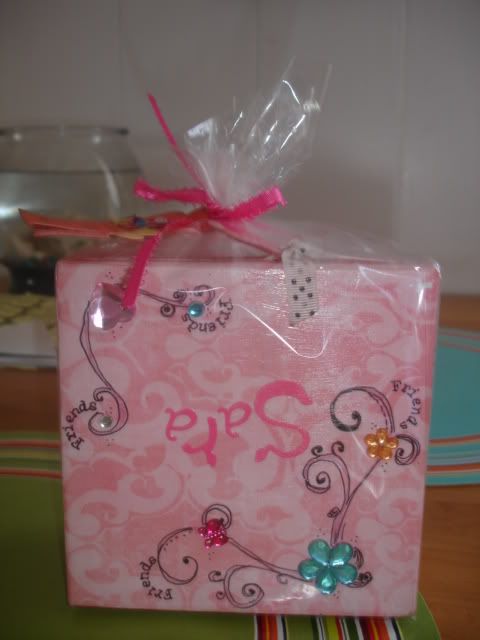 I also made tags using CM tag maker.
Sizzlits
tropical flowers, gift and CM star makers. I did green tags for boys and pink for girls. Used some jewels on them as well. I then stamped "Thank You". Oh and I inked them as well.
Thanks for looking.
Nadya