Here is how our Dec. 5th Friday evening and night went...
Katherine had Christmas program that night at the school. She was so cute. The kids were singing Christmas songs and they had a play as well. It was very well done. :)
I could not get up close to take a good picture. The Christmas program was held outside so it was very dark for my camera, even though they did have those big lights but they didn't help much when you wanted to take a good picture. But at least I have a picture... :)
Here is Katherine and 2 of her best friends... Katherine is the one in red shirt.
After the Christmas program was done Chris helped to put things away and then we went to get some ice cream with the kids. But since most of us felt a cold coming on we decided that it would be better if we got some hot cup of cocoa instead of ice cream. So we went and tried out this new place that was open some time ago. It's called "The Coffee Bean & Tea Leaf"....
The girls got each a cup of cocoa. I got White Chocolate Mocha hut and Chris got something else... LOL :) don't remember what he got...
Anyways, so I had to take some pics of the girls. They had a lot of fun. And they were so cute drinking their cocoa.
The girls near the Christmas tree that was in the store.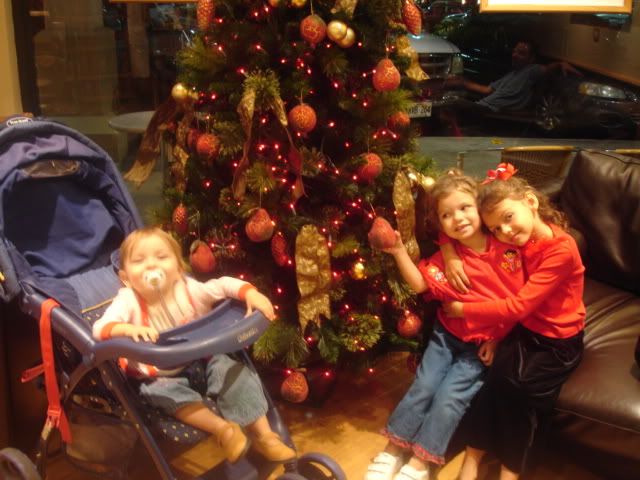 I have no clue why Sara started to cry. But I think she might have wanted to be out of the stroller. :)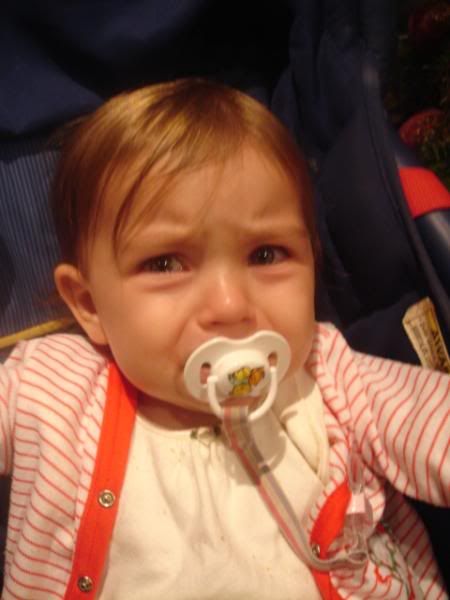 Sara is waiting for her cup of cocoa as well. Chris got her sippy cop from the car and the girls shared their cocoa with Sara. She LOVED it. :)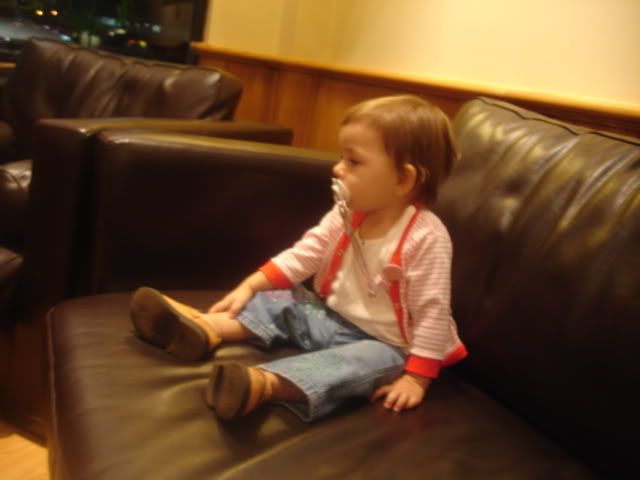 See her chugging it down. LOL:)
Yup, she sure loved it.
We had fun hanging out as a family. The girls enjoyed their cocoa and it was just really nice.
But our night didn't end there. We went to get some groceries after that.
See this whole time Leda was crying and being really whinny. She said that her leg hurt. She couldn't walk. She wanted to be carried. By the time we got home she was in a LOT of pain. She was screaming on the couch. So I decided that that was it. That we just needed to get her to a Dr. because we couldn't figure out what was hurting her so bad. Nothing comforted her, nothing worked.
So we took her to the ER. And oh how much I dislike going to the ER. The waiting and the staying up and your next day is just ruined.
When we got there and finally saw a Dr. they did some test to make sure that she didn't have bladder infection or other infections. That came back normal. Dr. did some exercising things with her leg and she said that it hurt a lot in the upper hip area. So we were sent to do x-ray of her hip to make sure that it wasn't broken or anything else. That came back normal as well. But she was still having pain. She still couldn't stand on her leg. So the Dr. came to a conclusion that she might have a pulled muscle there. She just need to rest and not walk as much and he gave her something for the pain. Our Saturday ended up being of a lot of sleep for all of us. :) Staying at the ER till 4 am was no fun.
Here is Leda in the ER room.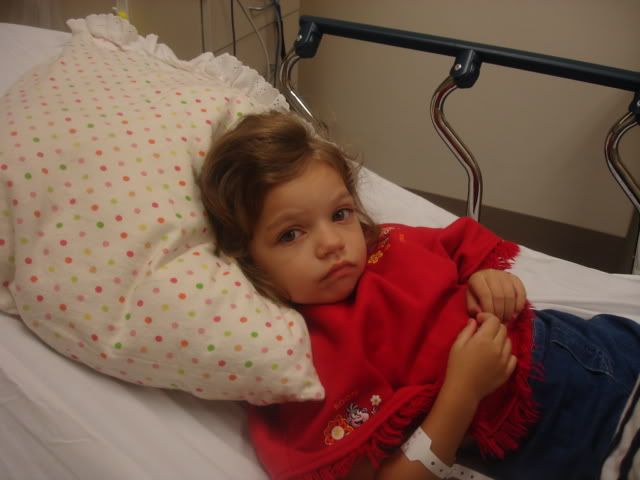 Leda did very well in the ER. She made friends with nurse and the Dr. She even made some funny comments. :) She was so serious when she asked us if she was going to get a sticker for being there.
She thought that they were going take her bones out when we told her that they were going to take a picture of her leg (x-ray)... LOL :) Poor girl!!!
So that was our Friday night. How was yours? :) I hope that it was less eventful then ours.
Nadya :)